Special to the Post and Courier
The population shift from cities to suburbs began in the 1930s and was powered by the popularity of the automobile. With a car, there was no longer a reason to live relatively close to work. New homes were designed for the automobile with driveways and garages, and communities reflected that burgeoning mobility with stores, schools, and other places of interest geared not toward pedestrians, but drivers.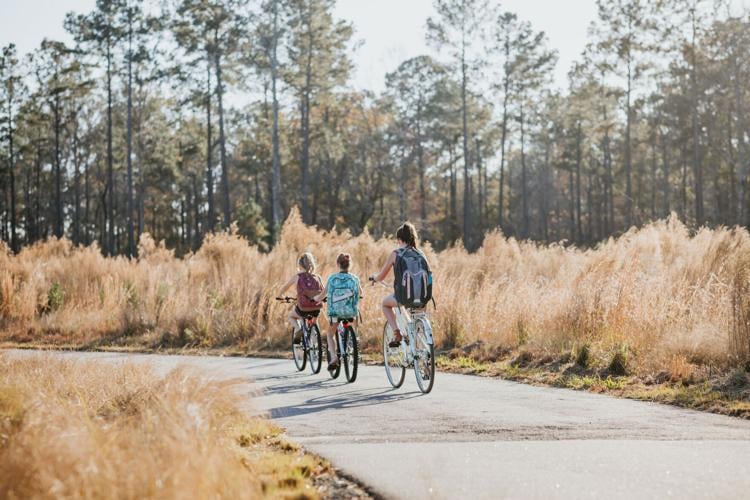 It was a sea change in how and where Americans lived, evident in the Charleston area by the growth of bedroom communities like Mount Pleasant and Summerville, as well as new subdivisions West of the Ashley. And yet today, another notable shift has occurred: with master planned communities designed to be mini-towns of their own, many residents are once again seeking places where they can get around using their own two feet, and recapture some of that convenience initially left behind by the rise of the car.
"It's a trend that has been kind of building for some time, and hasn't gone away," said Julie Dombrowski of DI Development Company, which has developed Daniel Island, Carnes Crossroads, and the new Point Hope. "It's actually become more and more popular, as I've seen it, over the past 20 years. And then now with Covid and this idea of people spending more time outside and wanting more space to themselves, I think that it will just continue."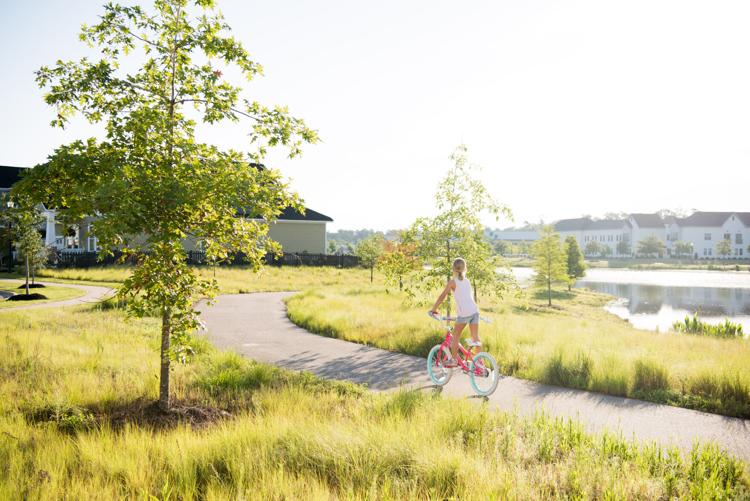 The dominance of car culture can be seen in the many older, established neighborhoods in the Charleston area that lack even sidewalks. Diverting from that trend in the mid-1990s was I'On in Mount Pleasant, which brought a downtown feel to a suburban setting complete with sidewalks, a trail system, and adjacent retail village. Developed around the same time was Daniel Island, whose residential, commercial and recreational offerings were blended together almost seamlessly.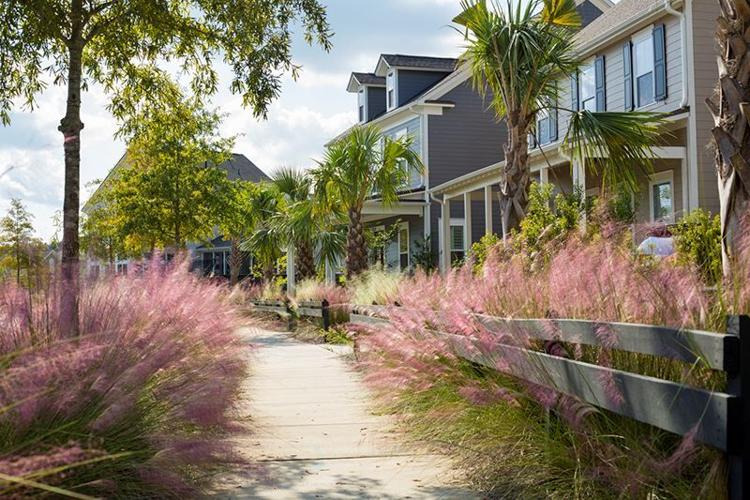 They were forerunners in the movement toward "neo-traditional" or "new urbanist" community development, which created neighborhoods that felt like little towns of their own. Many more followed—such as Celebration, Fla.; Birkdale Village, N.C.; and Issaquah Highlands, Wash.—defined often by compact home sites and a mixture of detached single-family and condo homes. More recently, large master-planned communities have expanded on that concept by combining walkability with the space many buyers still desire from suburban living.
In the Lowcountry, that transition is evident in master-planned communities like Nexton and Carnes Crossroads—which in addition to thousands of home sites, also offer extensive sidewalk and trail systems, as well as retail offerings, restaurants and sometimes even schools and healthcare facilities adjacent to the community. The ability to get exercise, have safe places for kids to ride bikes, and even walk to a nearby coffee shop has proven irresistible to home buyers young and old.
Walkability "has been a heavy focus of the developers and builders in these neighborhoods," said Lindsey Martin of The Martin Freeman Group. In addition to a 10-foot-wide path paralleling its main artery, Nexton estimates that 30 percent of the community will remain green space with a trail system throughout. Carnes Crossroads integrates sidewalks and trails around the community and into its centralized shopping and medical plazas.
"The goal is to have the community be a place you can live, work and play without having to get in your car," Martin added. "People who purchase in these neighborhoods are seeking convenience and a lifestyle that a traditional neighborhood seldom provides."
Hitting the trails
But the presence of sidewalks is hardly the only allure. In addition to its numerous parks and green spaces, Nexton in Summerville boasts a trail system that currently stretches for over 10 miles, and is planned to top out at 50. Carnes Crossroads near Goose Creek started out with five miles of trails, a number that will grow along with the community. In the Cainhoy area, the new Point Hope community will be defined by its trails—a "miles-long" network of paths and greenways that will complement the mixed residential-business development.
While buyers in walkable neighborhoods look for wide, safe, tree-lined sidewalks, the most sought-after amenity right now is a trail system, Dombrowski said.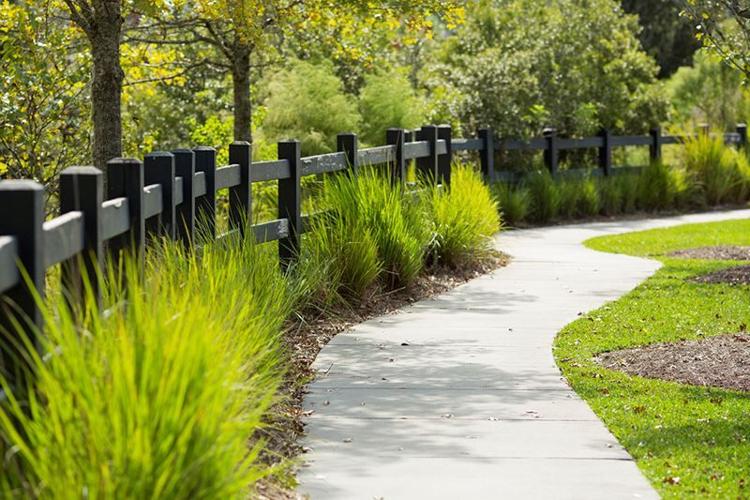 "I think there's a lot of interest in health and wellness and overall these days. That's been a growing trend for some time," added Dombrowski of DI Development Company, which is developing Point Hope. "A lot of times you'll have a community with schools and businesses, and people who live in those types of communities often are looking for ways to maybe ditch their cars. So I think it's a little bit of both transportation in addition to fitness and wellness."
Trails were once looked down upon, especially in suburban neighborhoods, because residents too often saw them as vectors for crime and were concerned they would negatively affect property values. Now, trails and greenways "can contribute to areas where they are established by providing recreation, transportation, a sense of community, increased property values, and lower crime," according to University of Delaware professors David P. Racca and Amardeep Dhanju.
In fact, trails are booming everywhere—urban networks such as the High Line in New York and the Lakefront Trail in Chicago are immensely popular, and in neighborhoods trails can increase property value and livability. "Trails … create an amenity that commands a higher price for nearby homes," wrote the land management research group Headwater Economics. "Research shows that homes near trails often have higher property value, with a price premium ranging from five to 10 percent in most studies."
In the Charleston area, Martin believes residents want to take advantage of the mild climate and ample sunshine. "I think people just desire to be outdoors, especially if they've moved to South Carolina from a northern climate," she said. "They've dreamed out what it would be like to take a walk in 60-degree weather in January. The trail system plays into that desire. During the onset of Covid, when we were all at home, I never saw the trail system more used. Spring was here, but we weren't able to go to the beach or to the many parks or spring festivals Charleston offers. So we took to the trails."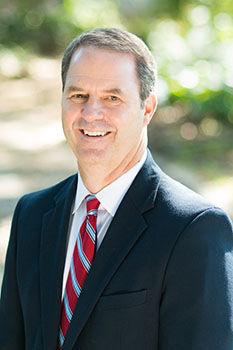 No wonder many envision trail systems becoming an amenity as ubiquitous as swimming pools or playgrounds in community development. "For larger neighborhoods, I think trail systems will always be a part of the planning," said David Kent of The Real Buyer's Agent, and 2017 state Realtor of the Year. "They're great for exercising and meeting your neighbors."
But unlike pools, parks or amenity centers, which take lots of land to construct, trails can be woven into most existing neighborhood plans. "Part of it is just really good planning and design, because it doesn't really have to take up that much space to create," Dombrowski said. "You can really make it work almost anywhere. At Point Hope, the trail system has really informed the planning for the rest of the neighborhood. Trails could easily be carved into the current topography, and the rest of the neighborhood design could be worked around that."
Increasing home values
The success of walkable neighborhoods featuring a combination of convenience and livability is clear in both home value and industry accolades. Nexton—which bills itself as "the most walkable community in South Carolina"—has received two prominent honors in 2020: Best Community Land Plan in the Pacific Coast Builders Conference Gold Nugget awards, and the Pinnacle Award for Best Community by the Home Builders Association of South Carolina.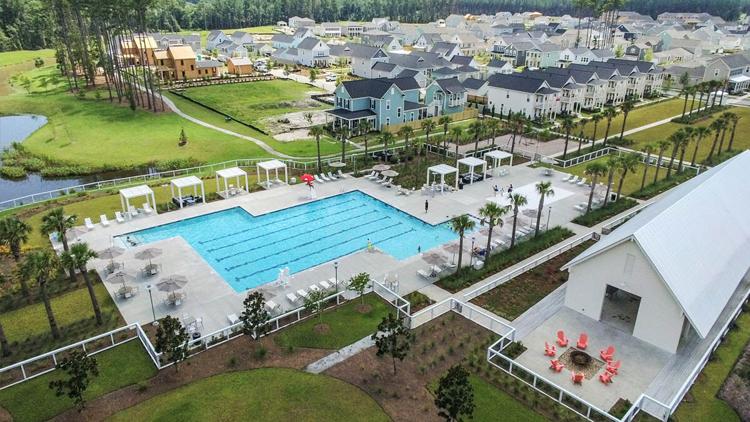 The walkability and convenience offered by the community certainly played a role in those accolades, Martin believes. "The community uniquely blends the ability to be actively outdoors with its sidewalks, trails, and green space," she said. "You don't have to drive to Azalea Park or a green belt to be outside. You can walk out your front door and immerse yourself."
Nexton also recently announced the next phase of its build out, which will mix a higher-density commercial and residential area with detached single-family homes. That design isn't just convenient—it can come with enhanced property values.
In U.S. cities, homes within walking distance of schools, shopping, parks and other urban amenities sell for an average of 23.5 percent, or $77,668 more than comparable properties that are car dependent, according to the real estate data site Redfin. Increasing a neighborhood's "Walk Score"—a Redfin formula that calculates walking distance to stores, restaurants, schools and other services—by a single point can increase the price of a home by an average of $3,250 or nearly 1 percent.
It's perhaps no coincidence, then, that median home prices in greater Summerville—where Nexton is located—have grown 9.2 percent over the last year, according to the most recent report available from the Charleston Trident Association of Realtors. Although the Redfin studies took into account only U.S. major metropolitan areas—a group that does not include greater Charleston—the results can easily be extrapolated to the country at large, given the growing popularity of neighborhoods with sidewalks, trail systems, and nearby amenities.
"These master planned communities with trail integration have really ruled the Charleston market in the last decade," Martin said. "Their home sales and ability to attract local retailers to their commercial spaces certainly reflects that the integration of walkways and trails is a tremendous success."
Much of that is being driven by families, of course, which see elements like sidewalks and trails as safe places for their kids to walk or ride bicycles. But many of these master planned communities also feature neighborhoods dedicated or targeted for residents 55 years and older, diversifying the age range of those attracted to walkable developments.
"At Carnes Crossroads, we have a really good mix of younger and older residents," Dombrowski said. "We've got retirees and young families that are moving in, and I can say that the retirees really like the walking trails as well. And I know just from a safety standpoint, a community with sidewalks is very desirable for people who want their kids to be able to walk or ride bikes to the park, and not be out in the middle of the road."
Martin sees that diversity in age as well. Walkable neighborhoods are for "buyers who like being active, like being outdoors and like the thought of prime convenience," she said. "When it's nice outside, my husband and I take our young sons on a golf cart to have pizza at the local pizza place. What better way to enjoy a night out in South Carolina than going by golf cart and taking in our beautiful weather."