Eric Harper "blames" his career on his parents.
"When I was 12 or 13 years old, I got a Radio Shack 160-in-1 Kit for Christmas. It had the little spring-loaded connections with a little jumper wires and a big book that told you how to make an AM radio. I still tell my parents today that I blame that gift for my career," he jokes. "From that day on, most of the toys I played with were electronic. The next thing you know I had a Little Merlin and it really got me wondering what made stuff tick … what made it work."
From there, the writing was on the wall. Harper was soon tearing apart and installing car stereos. That love of electronics led him to pursue an Electrical Engineering degree at Duke University.
"About halfway through my senior year at Duke I realized engineering was not really what made me tick. Instead, I love the applied science of electronics — not necessarily the guts of what makes it work," he recalls.
That instinct led Harper to hook on as an installer with a Definitive Concepts, a small three-person custom installation company in Virginia Beach, Va. There, Harper learned the ropes of custom installation from soup to nuts, doing sales, programming, lighting, design, installation, pulling wire for five years. The company focused on resort homes in the area and it was during one particular project that a customer helped change the path of Harper's career.
"I was in the final setup of a system for a successful client, and we were watching 'Who Wants to Be a Millionaire?' on TV and he asked me several business questions. I didn't come from a business background at all, so I had no idea what he was talking about. But those questions got me thinking a lot about my career trajectory and wanting to get more of a business perspective versus just being on the technology side," he recalls. Harper found out later that client was Gary Loveman, CEO of Harrah's Casino.
Swapping From Installer to Manufacturer
So, with that in mind, Harper migrated from the installation side of the business to the manufacturing side when he joined the Integra division of Onkyo in 2001.
"Integra was the perfect job for me. I always had a passion to move from the integration side to the manufacturing side because I had a lot of ideas and knew I couldn't influence the direction of products unless I moved upstream and went to work for a manufacturer. The Integra division had only been around less than one year when I got there," he remembers.
From there, Harper spent five years at Sunfire and two years at Elan, before moving over to SnapAV in 2010. At each job, he was fortunate to be influenced by industry leaders such as Mark Friedman (CE Pro Master 2015), Mark Weisenberg (CE Pro Master 2018), Paul Starkey (CE Pro Master 2016), Bob Farinelli and Jay Faison.
"I remember my interview at SnapAV 10 years ago like it was yesterday. I was sitting in the car with Jay Faison driving me back to the airport and I asked him how it was that SnapAV was doing so well in the recession when every other company was going in the opposite direction," Harper recalls.
"He told me he was a businessman first, and a custom integration/AV person second. It clicked with me … so many people are in this industry, like me, because of what we did as a kid, but not Jay … he looked at this industry as a seasoned businessman with a maturity of business thought and leadership. That perspective has helped me add an element that was missing from my repertoire."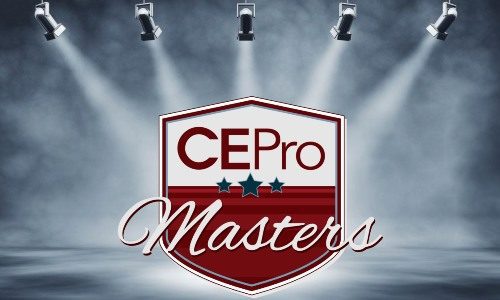 He identifies the blurring of lines at the supply chain level and at the integrator level as the biggest sweeping change in the industry over the past 25 years.
"On the supply side, SnapAV bent the lines on the nature of what precisely a manufacturer is versus what exactly a distributor is. The industry used to have a very defined chain from manufacturer to distributor/independent rep to dealer/ reseller to customer. The model had been that way forever. Today, I think it would be really tough to be just a distributor or just a rep. SnapAV has somewhat been part of that wave of change. It's not a surprise today that so many distributors are sourcing product directly and have their own house brands," he notes.
At the integrator level, Harper says the blurred lines between residential AV integrators, commercial AV integrators, electricians, and security dealers are virtually gone.
"The convergence of all the technologies means every trade is touching everything. Everybody wants a piece of the smart home pie, including Google and Amazon. Those lines between trades are not really even lines anymore — they are kind of a gradient on a plane, which makes it really difficult if you're trying to stay in your sandbox either as an integrator or as a supplier. It's a delicate line," he observes.